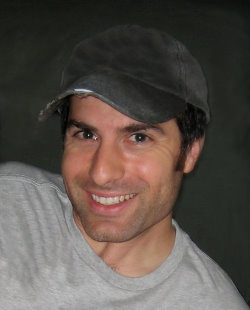 Chris Tedesco is a New York City based songwriter, multi-instrumentalist, producer and arranger. For the past 10 years, he has kept one foot in New York and one in Nashville. He has been an active part of the downtown music scene in New York for 18 years. At the age of 22, he teamed up with studio veteran guitar player and songwriter Gordon Gaines (Donald Fagan, 10CC, Gary Katz). Gordons' mastery and skill as an elite and innovative guitarist is the single biggest influence on Chris' writing and playing. Over his career, Chris has been a steady sideman on violin, guitar and mandolin for many of New York's best singer songwriters including Steve Tannen (The Weepies), Annie Golden & Artie Lamonica (The Shirts), Jim Lampos, Peter Spink, Jeremy Wallace, David Ippolito, Jon Divello and Caroline Doctorow, as well as touring artists Jane Siberry, Richard Barone, The Angstones, Harlem Parlor Music Club and The Shirts. He was also in the house band at the Bottom Line for The Downtown Messiah, adding some downtown fiddle flavor with a wah pedal, delay and distortion to Handel's masterpiece.
On a bigger stage, Chris performed on stage with legendary screen actress Ann-Margret for nearly two years with the national touring company of Broadways "The Best Little Whorehouse In Texas" and as a member of the TJ Martell Foundation Award Show House Band, Chris has also performed with Kenny Loggins, Colbie Caillat, Phoebe Snow, and traded rockin' country solos with the legendary Charlie Daniels at the awards show concert in 2010.
886 miles to the south, he is the founder and bandleader of Nashville based country music group The Ranchhands. A five piece touring machine that has performed over 800 concerts in 20 countries. In 2005 and 2006 he was one of three nominees for the French Association of Country Music's international musician of the year, losing out to Keith Urban and Brad Paisley. In 2008, Tedesco's Ranchhands broke ground in Eastern Europe as the first American country music band to perform in Albania and Bosnia. His songwriting for The Ranchhands, though rooted in country music, embodies elements from several other genres making the songs very accessible to a variety of music fans. In 2007, "When Everything Changed" (a Tedesco penned track from the CD "Driven") was chosen as the feature song on a worldwide CD release named "Stomp Out Cancer" benefiting the fight against Ewing's Sarcoma. All three CD releases from The Ranchhands have received generous airplay across the globe. With his band mate and lead singer Mickey Kennedy, The Ranchhands continue to break barriers in the world of country music.
Chris continues to write songs and perform on an ever expanding platform; from hit country, to adult contemporary, to commercial jingles to 40 piece string sections, to collaborations with New York and Nashville's best writers. Every week brings a new project, and everyday brings new inspiration.
Chris resides in Rockaway Beach New York with his wife Janelle and his two sons, Tony and Roman.
Memberships/Affiliations/Endorsements:
Abe Olman Scholarship for Outstanding Songwriting (SGA & Songwriters Hall of Fame)
Founder and Manager of StringRecordings.com
AFM Local 802
NARAS
Songwriters Guild of America
ASCAP
Super Sensitive Strings
Eagle Scout
Chris also makes a killer pesto sauce with the help of a special recipe from the Italian region of Switzerland.